New cutting machine for polyurethane pultrusion
Views: 1274 Author: Site Editor Publish Time: 2020-04-21 Origin: Site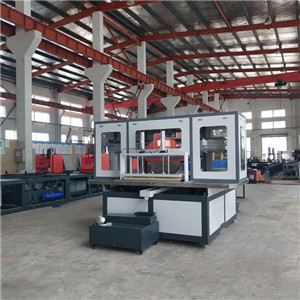 Nanjing Haoli Hydraulic machine Co., Ltd. is a technology-based production-oriented enterprise, established in 1999. Mainly engaged in the development, design and manufacture of hydraulic system, hydraulic transmission and control system and centralized oil supply and lubrication system.
In 2000, it first entered the field of composite materials. It is the first enterprise that digests and absorbs the FRP pultrusion technology imported from abroad for the domestic related institutes, and provides its own FRP machine pultrusion unit. Our company has transferred FRP profile pultrusion technology to many enterprises.
In recent years, with the in-depth development of composite industry in China, the company has developed a series of FRP pultrusion products to meet the needs of the development of FRP materials. At present, the company has provided a large number of FRP machine pultrusion production lines to customers.

It has been proved that our products have high reliability and are more suitable for the needs of pultrusion technology in China. The products are exported to the Middle East and Europe. The company is a member of China composite materials.

Our company has passed ISO9001 quality system certification in 2007.
Nanjing, a manufacturer of pultrusion machine, has attracted a large number of young and middle-aged experts with rich technology and experience. The company's products are renowned in the industry for their expert quality and expert service.
Nanjing Haoli, a pultrusion machine manufacturer, always adheres to the development strategy of integration of production, learning and research, takes product innovation as its own responsibility, and cooperates with universities and research institutes to tackle key issues. It is the industrialization transformation base of scientific and technological achievements in many universities.

It has rapidly developed into a new high-tech enterprise with series products and large-scale production. At present, the company has a number of patents and software copyright, and has been recognized by high-tech enterprises in Jiangsu Province.

Participate in the formulation of the industry standard of fiber reinforced composite hydraulic pultrusion machine. The machine is serialized, modularized and intelligent to meet the personal customization of customers' individual needs.
The company always adheres to the excellent after-sales service work, carries out "turnkey" engineering service for customers, and creates a perfect pre-sales, sales and after-sales service system for customers.
Nanjing Haoli takes industrial rejuvenation as its own duty, adheres to scientific development and effective management, and is making great strides towards a newer and higher development goal.
New cutter machine for polyurethane pultrusion
Cutter machine is an indispensable auxiliary machine for continuous on-line production of polyurethane pultrusion machine,Cutter machine can cut grp pultruded profiles, fibre rod pultrusions and other pultrusion products.
1. The cutting machine is mainly composed of three parts: bilateral hydraulic clamping device, movable cutting machine saw blade head, electrical control and measuring device.
2. as an online continuous production of pultrusion profile, cutting machine is necessary machine.
3. In order to protect the production environment and the health of the operator, the cutting machine has been equipped with a water tank when leaving the factory, which has the functions of water spray and dust collection.
technical parameter:
Dimension (L*W) 3500*2500mm
Weight 1.5Tons
Driving type Hydraulic
Saw motor power 3KW
Max profile(L*H) 800*250mm
What's the main brand of our hydraulic parts?
Haoli Pultrusion machinery main choose the high cost-effect parts,but all of parts can be purchased local in

The pump:We can use the Rexroth type or Yuken type

The hydraulic pump:Rexroth brand or Yuken brand

Linear guide:Hiwin Made in Taiwan;
What's the main brand of our electrical parts?
PLC and Touch screen:Siemens or Mitsubish Made in Japan;

ABB and Ormon and Siemens and Schneider

Temperature gauge:ABB or Siements

Control technology:Touch screen with icloud witness where ever you are.




Our Honour
Our machining capabilities