What is pultrusion|The Pultrusion Process | The pultrusion machine
Views: 6469 Author: Nanjing Haoli Hydraulic Equipment Co., Ltd. Publish Time: 2020-04-01 Origin: Nanjing Haoli Hydraulic Equipment Co., Ltd.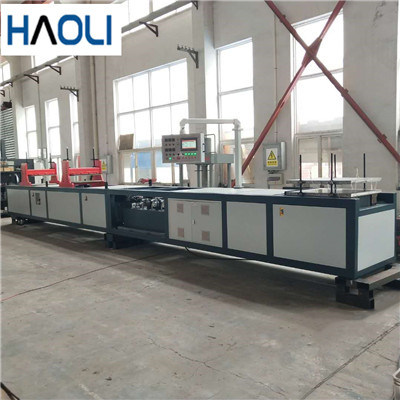 Haoli Hydraulic Equipment offers pultruded products to meet a variety of needs. We have the servo-control pultrusion machinery and pullwinding machine and mat slitter machine.
Fibres are pulled from a creel through a resin bath and then on through a heated die. The die completes the impregnation of the fibre, controls the resin content and cures the material into its final shape as it passes through the die. This cured profile is then automatically cut to length.
We can use different material to make these frp products.The material below:

Resins: Generally epoxy, polyester, vinylester and phenolic.
Fibres: fiberglass or the carbon glass
The manufacturing process described above is also convenient, efficient and low-cost in comparison to other options on the market. The continuous process of pultrusion makes manufacturing cost-efficient and eco-friendly. Pultrusion also garners consistent high quality composites, reducing error in production and in turn offering a greater customer satisfaction.

Pultrude composite profiles have seen an increase in demand in recent years and for good reason. With the high durability and non-corrosive character traits of fiberglass reinforced polymers, it is a clear advantage to the customer to select a pultruded profile.